We have some special opportunities to help you get the most out of BookCon 2019! How does your own personal publishing consultation sound? What about reading from your work on stage?! Learn more about the opportunities to grow your author business at BookCon 2019!
What is BookCon?
First, let's start by answering the burning question some of you might have: what's BookCon?
"BookCon is the event where storytelling and pop culture collide. Experience the origin of the story in all its forms by interacting with the authors, publishers, celebrities and creators of content that influence everything we read, hear and see. BookCon is an immersive experience that features interactive, forward thinking content including Q&As with the hottest talent, autographing sessions, storytelling podcasts, special screenings, literary quiz shows and so much more."
BookCon will take place June 1 – June 2 at the Javits Center in New York, NY. You'll hear from celebrities like John Cena and Alyssa Milano to renowned authors such as Eoin Colfer and Tomi Adeyemi. Check out the full list of guests (if you haven't bought your ticket yet, we have a feeling this will convince you).
But wait! Keep reading for a special IngramSpark discount code...
Why Should I Attend BookCon?
In previous blog posts, we've discussed the importance of attending conferences to network with your fellow authors and industry professionals or attend workshop sessions to improve your writing or business skills. BookCon is part of BookExpo America, the biggest book show in North America. Beyond the benefits we just listed, there are two other bonus reasons to try to attend if it fits your budget and schedule!
Receive a Personal Consultation
For the last few years at BookCon, we've offered one-on-one consultations with authors and publishers like you! We keep bringing them back for three reasons:
You love them! You fill up our available time slots every year, which is outstanding.

We love meeting you face-to-face! We get to interact with you via our website, email, phone, and social media, but our favorite is getting to meet you at the events we attend.

There's so much to learn—not only for you, but for us as well! We listen to the questions you ask, and we take your feedback home to influence our own business strategy.
Your consultation is all about you and your book(s), so if you'll be at the show and are interested in having the undivided attention of one of our IngramSpark representatives for a half hour, visit IngramSpark booth #1003 on Saturday, June 1, to register for a consultation!
Support Your Fellow Authors and Publishers at BookCon
The Spark is the most compelling passage of your book.
Join us at BookCon on Saturday, June 1, for The Spark: A Literary Event for Poets and Writers!
This fast-paced, live literary event features a keynote by New York Times Bestselling Author, Jodee Blanco, and 60-second "Sparks": live readings by writers and poets like you. Join us at The Spark to vote for your favorite 60-second, family-friendly passage from your fellows live on BookCon's Downtown Stage! Your vote will help determine who wins: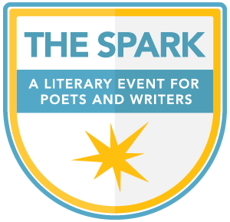 A digital subscription to

Publishers Weekly
Free title setup and revisions with IngramSpark for a year
An IngramSpark gift basket
A one-hour self-publishing consultation with Robin Cutler, Director of IngramSpark
A featured profile in BookLife by Publishers Weekly
And more!
It's important to us that authors and publishers have the opportunity to read to a crowd, so let's get the IngramSpark community to show them what we've got by filling seats, voting for our favorites, and looking forward to making this event one that endures through future BookCon's. Space was limited to 40 participants this year, and those spots filled up FAST! Be sure you're subscribed to our emails so you don't miss your chance to participate in exciting opportunities like these in the future. If you missed out this year, no worries, the more popular and well-attended this event is, the more likely we are to have more opportunities like it, so come out and show your support! We can't wait to see you there and show BookCon what the indie publishing community is made of!
You can also share The Spark from your own book with us on social media! We'd love to hear and share some on our Twitter, so be sure you tag @IngramSpark!
Discounts on BookCon 2019 Tickets
Although both a consultation and participation in The Spark are free, you'll still need to purchase a ticket to BookCon on Saturday.
Get a $20 discount on the $35 Saturday BookCon ticket (which makes it just $15!) with *promo code Spark20.

BookCon 2019
Javits Center
New York, NY
June 1 – June 2

Purchase Your Ticket
*Code not valid for refunds on previously purchased tickets.
We look forward to seeing you at the show! Come by IngramSpark Booth #1003!