For most of us, barrelling into the end of the year means getting ready for the holiday season in a flurry of last-minute projects and parties. For many writers, though, November brings an added challenge—National Novel Writing Month, or NaNoWriMo for short.
When it first started, way back in 1999, NaNoWriMo had 21 participants in the San Francisco Bay area and a simple premise—write 50,000 words between 1 and 30 November, or 1667 words a day.
Fast-forward to today, and NaNoWriMo has grown to over half a million participants worldwide and is now a non-profit organisation with a whole ecosystem complete with forums, pep talks from famous authors, local meet-ups, and a Young Writers Program.

One of the downsides of NaNoWriMo is that many writers assume that finishing your 50,000 words means you have a publishable novel.
I remember talking to friends in the publishing industry who dreaded December and January because they knew their slush piles were going to be inundated with a flood of unedited NaNoWriMo manuscripts. But I know from experience that it is possible to get your NaNoWriMo novel published. My first novel, Greythorne, was a NaNoWriMo book that was published in 2015 by an imprint of Pan Macmillan (and which I've now rereleased as an indie author through IngramSpark).
As impressive as that sounds, however, you won't find me on a list of NaNoWriMo winners. I started Greythorne during NaNoWriMo 2013, juggling it around full-time work and other commitments, and by the end of the month I had around 35,000 words—well short of the 50,000 goal.
It would have been easy to see this as a failure, but during that month something interesting happened: I got motivated.
> Looking for more writing motivation? Get writing tips, inspiration, and resources straight to your inbox when you sign up for IngramSpark's 30-Day Writing Challenge!
In the first week of NaNoWriMo I was super enthusiastic, but by the second I'd hit a major slump (this is pretty common!). By the third, however, I'd found a rhythm, and when November ended I just kept writing into December. By the time 2014 rolled around, I had a complete first draft—the first novel-length manuscript I'd actually finished.
Then the hard work started.
The next 9 months were spent editing and revising—I think I rewrote something like 20,000 words of my 55,000-word manuscript.
In November 2014 I pitched it to publishers, and in April 2015 I was offered a contract. In October 2015, almost two years after I first sketched out the story, I got to hold the published version in my hands.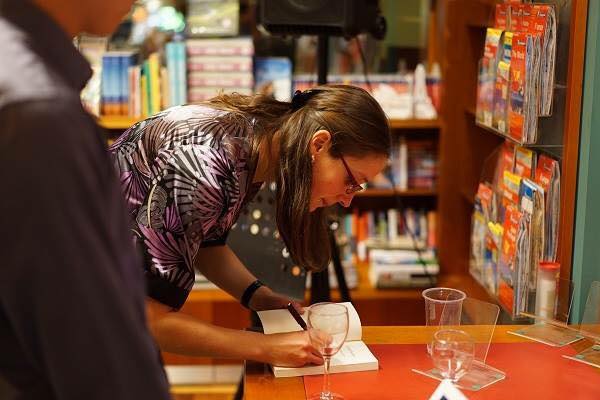 Since then, I've attempted NaNoWriMo twice more, in 2015 and 2019. In 2015, my idea was under-developed, and it became apparent very quickly that it needed to be shelved for a while and reworked. But it was a good opportunity to test the waters for what eventually became my second published novel, The Iron Line.
In 2019, I approached NaNoWriMo slightly differently. I had a first draft that I'd been working on for over 18 months, due to a few major life events that had derailed my writing time. It was 75 per cent finished, but I was struggling to get it over the line. In August I won a small grant to finish it, so I decided to use NaNoWriMo as a motivational challenge to bang out the last 18,000 words. Even though I really only participated for half of November, it gave me the push I needed to get it done. This book, The Light at the Edge of the World and Other Stories, is now going through the editing process and will be out in the first half of 2020.
For me, the beauty of NaNoWriMo is that it can be whatever you want it to be.
You can stick rigidly to the rules, or you can tailor it to suit your writing preferences and the needs of a particular project. Although it's easy to think of it as a linear process—write your 50,000 words, edit, publish—it doesn't have to be done that way to be useful. I may have never 'won' NaNoWriMo in the traditional sense, but I doubt I would have been published without it.