Most people are surprised to learn that search engines look inside all of the documents and applications they publish on the web for clues about their contents. Almost all applications let you edit the metadata associated with the document, though they might not call it metadata, and editing that metadata can help boost your book discoverability.
For example, let's say your Aunt Maude has let you install her license of Microsoft Word on your computer. Then you use Word to write a sample chapter of your book, which you then offer on your website for free. When you search for it on Google you may see that it names Aunt Maude of Peoria Knitting School as the author, which really isn't doing your author platform or your book discoverability efforts any favors. But don't worry. The registration information that automatically identifies Aunt Maude as being the author of any Word document created using her registered copy of the program can be changed. Simply open the document and click File > Properties and edit the data.
Here's what the metadata looks like in a Word document I uploaded to the web on this very topic, the importance of metadata for authors:
If you're publishing audio, video, or any other media, you can edit the metadata inside those applications, too. For example, Audacity is a free audio editing program I like for recording music, podcasts, and audiobooks. Audacity calls metadata "ID3" tags. In addition to marking the file as owned by me, these tags identify the file as an audio recording to search engines and to services like iTunes and Windows Media Player. So when someone enters the term "motorcycle adventure travel podcast" my recording is more likely to appear near the top of the search engine results.
Below is the metadata in the Audacity program from my interview with Ted Simon, a famous author in the motorcycle adventure travel genre. Lots of people search for Ted Simon's name, and so it's important to me that this shows up in the search results. This small effort has resulted in attracting a lot of book buyers to my site and yes, I saw a spike in sales after that podcast went live, so don't mistake the value of keywords in these types of metadata fields either.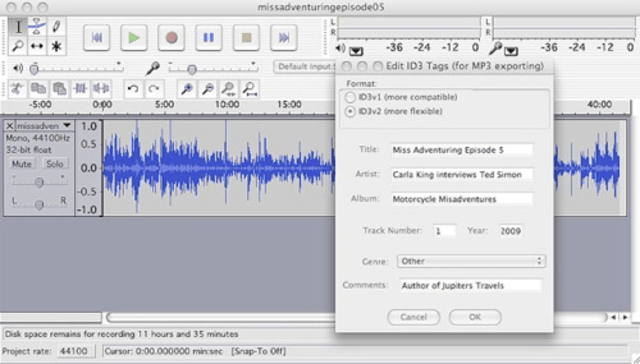 Make sure to take a peek at the properties of your documents, audio, and videos to make sure they're tagged with information that will help your book discoverability. Search engines won't know to display your different types of media if you don't tell them to. Technology is smart, but it relies on special formulas to perform the way its intended and your book needs you to input your metadata wherever possible in order to achieve book discoverability online.