If you've checked your email or logged into your IngramSpark account recently, you should have noticed that we have new agreements available for you to sign! These agreements are important to your book distribution and are required if you wish to use IngramSpark to share your books with readers worldwide. Here's a quick rundown of what these new agreements mean for you!
A Summary of What's New in IngramSpark's New Agreements
1. Combined Agreements
IngramSpark's global print-on-demand and ebook agreements have been combined into a single agreement: the Global Print and Ebook Agreement. The two used to be standalone. Combining these streamlines how many clicks you have to make to achieve the same end result. The Global Print and Ebook Agreement is required to do business with IngramSpark (regardless of whether you only upload print books and no ebooks or vice versa). The option for you to print personal copies or make either (or both!) formats available for book distribution makes this agreement required upfront for all IngramSpark authors and publishers.
2. Updates to IngramSpark's Amazon and Apple Agreements
While the combined print-on-demand and ebook agreement is the most comprehensive, there are still separate agreements for Amazon and Apple. Some authors and publishers work with Amazon and Apple individually. To make sure you're not doubling up on distribution of your books to these two retailers, we break them out separately. If you currently offer your ebooks to Amazon and Apple via IngramSpark, these two agreements will also require your signature. If you don't, the Amazon Addendum and Apple (Agency) Agreement will remain optional.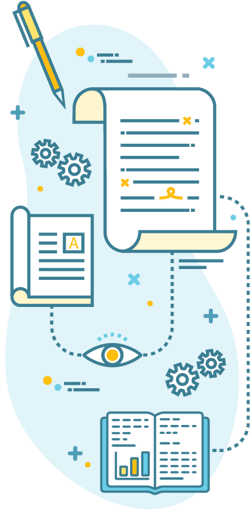 The benefit of having IngramSpark distribute your books to Amazon and Apple, along with the other 40K+ retailers we work with, is the ease of updating and managing your book distribution from one place. For example, if you add a new introduction to your book or make a price change, you'll need to apply those updates everywhere you own a distribution relationship. If IngramSpark manages all of your book distribution, you only need to make those changes from within your IngramSpark account to have the newest version of your book available across retailers.
3. Ebook Payments
IngramSpark will remit 85% of net revenue on ebook sales to publishers, no matter the reseller. Different e-retailers (such as Amazon, Apple, Kobo) have different rates for purchasing your book from Ingram to sell it via their own channels. If IngramSpark distributes your ebooks to all of these, regardless of the reseller, you'll make 85% of the net revenue of your ebook sales.
4. New Ebook Channels
New ebook channels have been added to the Global Print and Ebook Agreement to now include subscriptions, libraries, and more! This means your ebooks will be available more places and in more ways, including lending services who haven't previously been able to receive books from IngramSpark. The specifics of each of these new ebook channels is linked from within the new agreement.
Signing the new IngramSpark agreements before January 28, 2021 keeps your books in distribution and your account up and running without disruption.
What Happens If I Don't Sign IngramSpark's New Agreements?
A couple of things, and neither of them are good!
There are two very important deadlines for you to know. Instead of hitting the "Remind Me Later" button, we recommend you review and sign now to ensure there's no disruption to your book distribution. Here are the deadlines and what each means:
January 28, 2021 – this date is when any account that hasn't signed the new IngramSpark agreements (including Amazon and Apple if you've signed those before) will be locked and your books will begin to be removed from distribution.
By January 28, 2021, you'll have received three service alert emails from us saying action is required on your account. PLUS, you will have been presented the agreements page of your account dashboard every time you've logged in since October 27, 2020. (Relevant side note: you should really open your emails from us and definitely log into your account. It's good for you! It's good for your books! Maybe make that a 2021 New Year's Resolution if you don't already regularly do these things.)
A locked IngramSpark account means there won't be any way for you to see the rest of your dashboard or even place your own orders until you've signed the new agreements. The "Remind Me Later" button on your agreements page will be gone, because there is no "later" anymore. January 28, 2021 is officially "later," but not quite too late just yet.
August 1, 2021 – THIS is the date when it's officially too late. This date is when any IngramSpark account that STILL hasn't signed the new agreements will be closed, and we'll delete your personally identifiable information from our systems. This means we won't have any record that you or your books ever existed…how devastating.
If your IngramSpark account was the ONLY place you had saved a copy of your book, it'll be gone, and we won't be able to access it for you. All any of us (you and the entire IngramSpark Team) will be able to do is lament the time, money, and creativity you put into your books. The hours spent writing, publishing, promoting. The ISBNs you bought and cover designer you hired. All the family members who still haven't bought a copy won't be able to buy one anymore! That'll teach them to procrastinate! (…which may actually run in the family if you didn't sign your new agreements by August 1, 2021).
If you had an IngramSpark account (with or without books in it) before August 1, 2021 and don't sign the new agreements, the only way to have an IngramSpark account again will be to create a brand new one. From the ground up.
So save yourself the trouble and sign the new agreements now!
Other Frequently Asked Questions about IngramSpark's New Agreements
Q: I don't even have books in my account yet. Do I have to sign these new agreements?
A: Regardless of whether you have books in your account (let alone in distribution), you'll need to sign the new agreements to continue using your IngramSpark account. As soon as you're ready to upload and start selling your book, you'll be all set! The Amazon Addendum and Apple (Agency) agreements are optional, but are required to offer your ebook titles to these resellers via IngramSpark.
Q. I don't have ebooks in my account. Do I have to sign these new agreements?
A. See above. Book or no book. Print book or ebook. You have to sign the new Global Print and Ebook Agreement, at the bare minimum, in order to maintain your IngramSpark account.
Q: Can I opt out of some of the new ebook channels?
A: All ebooks being sold through IngramSpark will automatically be available for sale in all of our available ebook sales models. It is our goal to deliver your content to every possible reseller to provide your title with the greatest reach possible.
Q: When will these new agreements take effect?
A: If you signed IngramSpark's agreements before October 27, 2020, our new agreements won't take effect for your account until January 28, 2021 (as you're provided 90-day's notice). If you've created your account since October 27, 2020, the new agreements are the only ones your account has ever known, so the above updates are already effective and you're good to go!

We don't take updating our agreements lightly, and we don't do it often. What we are doing is looking forward to continuing to help you share your story with the world, which is why we hope you'll sign the new IngramSpark agreements available from your account today. And if you don't have an IngramSpark account, we hope these updates will encourage you to create one to enjoy the accessibility we provide to IngramSpark authors and publishers worldwide.