Sometimes "questionable" or even "deceptive" content gets uploaded into online platforms and creates confusion in the marketplace. Part of the deception we've seen at IngramSpark includes blank books, books masquerading as non-book products, and summaries representing popular books that pretend to be the original, which is why we're taking steps to protect our catalog integrity.
As one of the world's largest book wholesalers, Ingram maintains a digital catalog of millions of books that are made available to thousands of bookstore and library partners around the world. When authors and publishers upload a title into the IngramSpark platform and then enable that title for book distribution, they are making their book available to order by online retailers such as Amazon, Barnes & Noble, Walmart, and Target, as well as thousands of independent bookstores and libraries. To maintain the high level of catalog integrity and reputation Ingram holds within the book industry, it's important that our bookstore and library partners are purchasing content that is accurately represented, and these guidelines are to ensure that they are.
We take violations of laws and proprietary rights very seriously, which is why we ask IngramSpark authors and publishers to ensure their content doesn't violate laws or copyright, trademark, privacy, publicity, or other rights and must comply with federal, state and local laws. In February 2020, we developed a set of guidelines for which we monitor across all existing and new titles uploaded to IngramSpark. The below criteria describes the types of content that may not be accepted:
IngramSpark's Catalog Integrity Guidlines
Summaries, workbooks, abbreviations or similar type content without permission from the original author.

Content containing material amounts of blank pages like notepads, scratchpads, journals, or similar type content.

Content that mirrors/mimics popular titles, including without limiting, similar covers, cover design, title, author names, or similar type content.

Content that is misleading or likely to cause confusion by the buyer, including without limiting, inaccurate descriptions and cover art.

Content listed at prices not reflective of the book's market value.

Content scanned from original versions where all or parts contain illegible content to the detriment of the buyer.

Content created using automated means or mass-produced processes.

Content that is duplicated across titles in the same format in multiple trim sizes.

Public domain content may be free to use by anyone or may be licensed for use by more than one party. We will not accept content that is freely available on the web unless you are the copyright owner of that content. We do accept public domain content but may choose not to sell a public domain book if its content is undifferentiated or barely differentiated from one or more other books.

Content that promotes, incites or glorifies hatred, violence, racial, sexual or religious intolerance or promotes organizations with such views, including without limitation content that depicts child abuse and exploitation, contains pornography, glorifies rape or pedophilia, promotes terrorism or bodily harm, as well as or other material that may be inappropriate or offensive, including book covers and book marketing materials.
For the most part, IngramSpark's catalog integrity guidelines have had a very positive response: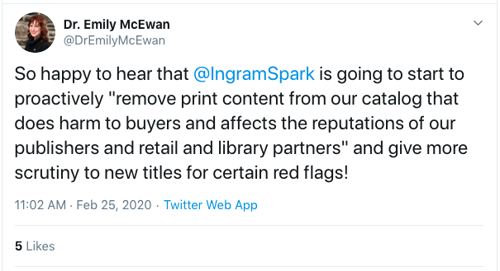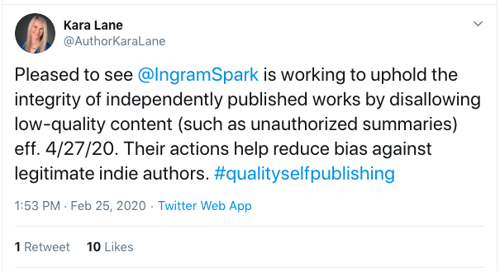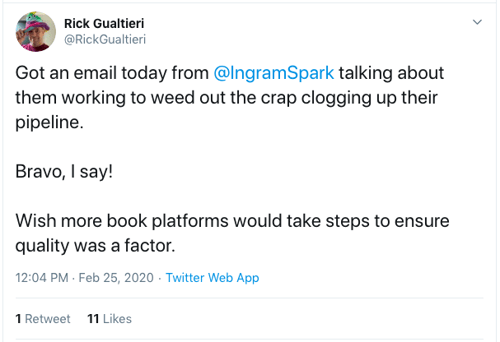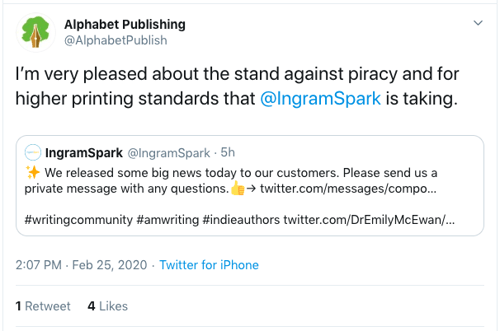 Most IngramSpark authors and publishers won't be impeached by our catalog integrity guidelines.
Content determined to not meet our standards to uphold catalog integrity will be removed from the catalog. If we remove your title, and you believe your book does not meet one of the above flagged criteria, we'll be glad to review your concern.
This policy of reviewing potentially harmful content is a positive action that will give your IngramSpark book a better chance of being discovered, protect the content that many authors have worked hard to create, and continue to reduce the bias against self-published content within the book industry. We're happy to help content reach retailers, libraries, and readers worldwide.
If you have more questions, please be sure to review our helpful FAQ.