I think all people go through important transitional moments in their lives, and if we're lucky, during those moments we stumble across tools that help us to find and better understand ourselves. When my mom died just before my final year of art school, I walked head-first into one of those major life-altering periods and my sense of self seemed to have been lost somewhere along the way. But there's an interesting, and slightly magical, thing that happens when we lose a piece of ourselves — it makes room for new discovery. For me that discovery was poetry, specifically in published, physical form.
Together, my wife Larissa and I run Dream of the Woods, an independent media company that strives to make work about peace, kindness, and human connection. Along with producing documentaries and short films under our production branch since 2015, we've also been actively growing, through the design branch of our company, a line of art prints that have been picked up in gorgeous shops around the country. Above literally everything we make, one print has always stood out — a hand-painted version of a poem I wrote just after losing my mom, back when I had surrounded myself with endless books of poetry.
Be The Ocean, in its 8x10in form, has sold more copies than every other art piece we carry, combined.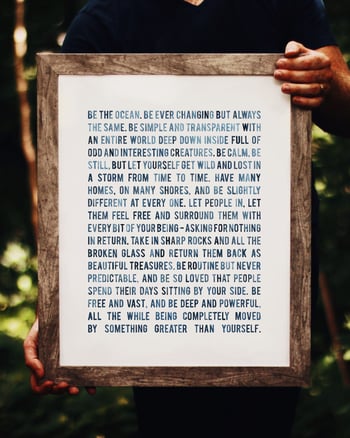 It has been read at weddings and funerals, given as gifts for all types of grief and celebration, and hung on walls in a diverse collection of homes. Knowing that I've written something that so many others find themselves in has been an absolute honor, and not long ago it dawned on us that this poem would be the perfect opportunity to open the third branch of our company: Dream of the Woods Publishing.
The Planning
The simplest part of the process, truly, was choosing a platform. After comparing multiple options, and even some non-print-on-demand avenues, IngramSpark had our confidence and our hearts. Between its wide range of trim sizes and cover options that gave us genuine room for creativity, its intuitive-yet-professional user experience, and its connection to Ingram Content Group, a fifty-year-old respected institution, we knew that we could create and distribute the product we imagined.
Their podcast on self-publishing, Go Publish Yourself, also gave us a significant nudge in their direction. Any organization that would go out of their way to offer as much free information as possible was, in my opinion, more than just a profit-driven company.
To me, one of the most important aspects of our book was the way it would feel in the reader's hands.
Remembering back to when poetry books helped me through my grief, the act of holding the physical object and appreciating its weight and texture was nearly as important as the words inside.
Ebooks and digital literature are valid and sometimes even greater canvases for certain material — but we wanted our product, a coffee table book with full-spread photos and large hand-painted words, to be left out and picked up by many hands. The way it would age, how it would look after hit by humid, salty ocean air, the idea that it could only gain more character by how many times it was read — all of these pieces mattered.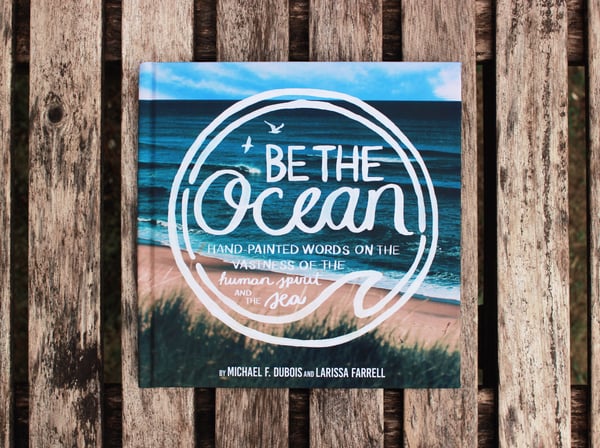 The Work
Our approach to art and content creation has always been a very active one. Instead of asking ourselves "What can we make from the skills that we have?" we do our best to begin on the opposite end and work backwards.
"What do we want to make, and what skills do we need to learn in order to bring that vision to life?"
Building our Be The Ocean book was the epitome of this process. Larissa and I had both been photographing for years, but were any of our photos good enough to be published?
We understood design and had our aesthetic down, but would that translate to a book and all of its many pieces?
Trial and error became our friend. We sifted through our hard drives of photos, we wrote out the poem in as many handwriting styles as we could think of, we mocked up pages and printed them out, trashed some and kept others, started over, got frustrated, found inspiration, and just kept pushing forward.
Even toward the end of the project when things seemed to be nearly complete, we found ourselves at least three times ordering a proof, readjusting elements, re-uploading our files, and trying again. Time and patience were truly the best gifts we could have given ourselves. Again and again we found that creating a photo book, just like writing a poem or perhaps even a novel, is best thought of as a sculpture — you build a foundation as strong and as full as you can, and from that foundation you slice and shave and rework edges until your finished product leaves only the best, most necessary pieces. Even though the reader or viewer will never see just how expansive the infrastructure once was, they'll feel every intentional decision underneath the work you've left on the page.
When it came time to begin marketing, the three branches of our company really fell into place. Not only had we already built a customer base from our other Be The Ocean items, but our ability to create a video that tied our book, our art prints, and our company mission into a powerful two-minute segment allowed us to launch our new title in a cohesive, professional way that simultaneously heightened the legitimacy of our brand.
The Distinguishing Step
On launch day, all of the hard work seemed to fade and it felt as though in an instant we had become authors, and we had a gorgeously-bound photo book containing our names to prove it.
A single step is what had stood between the titles of "maker" and "publisher" and IngramSpark is what allowed us to climb it.
There had simply been two of us — my wife and I — creating work on software some of which we had just learned, using our equipment that was by no means state-of-the-art, and yet because of the platform we chose alongside some serious determination (and more than a couple stumbles) we were able to release a book that now holds its own on shelves beside titles from large publishers.
In the end we learned the same lesson that we've found from every other large project we've taken on, one that all makers find themselves learning and forgetting, and relearning again: success doesn't require perfection.
We didn't need to be masters in all areas in order to publish a book that people connect with. We simply needed to try, fail, learn from our mistakes, research, re-work, and of course, trust in a platform that helped us stitch it all together.
Find all of our work at www.dreamofthewoods.com.