Search Engine Optimization (SEO) is often seen as a complex and confusing term. And for authors, it can often be another rabbit hole of information, one that seems endless and complex. But it doesn't have to be. Getting found online is really about doing stuff that Google likes. Google's number one goal is matching websites to consumer search—and that's it. So, the key really is not in understanding the various changes in Google's algorithm but understanding how search impacts your website—and how to turn this to your advantage.

Getting found on Amazon and Google is a good goal for any author—and getting found involves understanding keywords and how other sites can help you boost your online visibility, too.
Finding the Right Keywords
One thing that is often confusing for authors is keyword search and finding the right keywords for their market. But the idea here isn't about slamming in a bunch of keywords that feel right to you but digging in and finding keywords that matter.
There are a lot of paid sites out there that will help you do this, but one I love, in particular, is free. It's called Ubersuggest, and it's run by one super smart SEO guy: Neil Patel. One thing I love about Ubersuggest is that it doesn't just give great keyword ideas—if you connect your website, it'll also give you some deep-dive SEO tips.
Most authors don't exactly know the right keywords to use. You have an idea, like "mystery novel," "historical fiction," or "romance novel." And for nonfiction, it's probably easier—but it would still be good to know what folks are searching for so you can create an author website that supports those searches.
Let's take a look at what a search showed for the keywords "romance novel."

The "volume" and "PD" columns are the ones you should pay attention to (for now). The volume refers to the monthly searches for that keyword, and the PD column indicates how competitive the keyword is—the higher the number, the harder it is to rank for. Which means it will take longer for you to rank for that particular keyword.
Now let's look at a nonfiction example using a pretty busy term: repair your credit.

Once again, you see the search volume and the competitive nature of these words. Surprisingly, they aren't as competitive as the fiction example previously, so it could be easier to rank for these terms.
Now that you have some keywords (if you click on the "view all keyword ideas" at the bottom of this search, the list will continue on for days), how should you use them?
Once you decide on the keywords strings you're going to use, plug them into Google and check out the top search ranks to get more ideas on keywords you could use for your website and/or your blog posts (which we'll discuss in a minute).
In this case, I searched "repair your credit" and look what pops up—pay attention to the first line, but also the bolded words showing up on the search engine results page (SERP).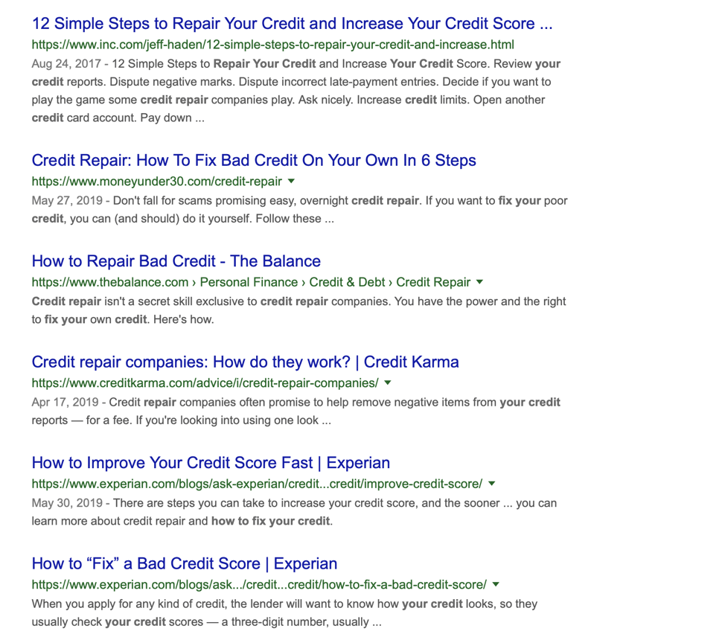 Both these titles and the bolded words are good indicators of keywords you'll need to use on your website to gain better traction in search results.
Now let's look at this for a fiction author. You'll see some great uses of the term "romance author," which is what I searched.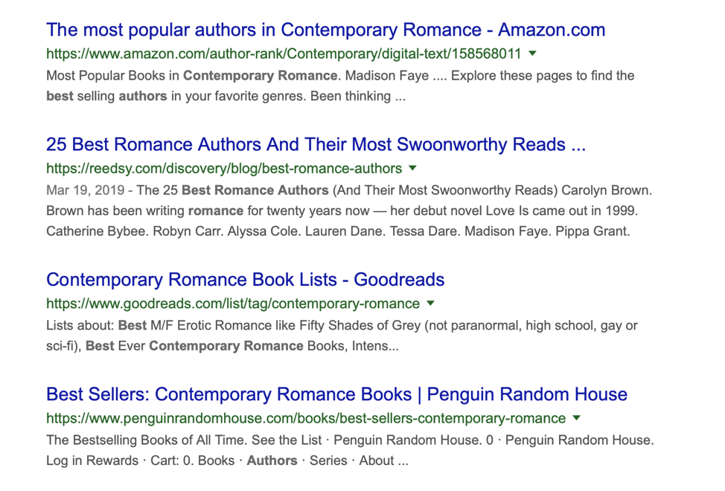 Then there are the specific author websites, have a look:


What this means is that in order to gain ranking for this specific keyword string, you need to have it on your website—we'll discuss where to use it in a minute.
Title Tags (aka Website Titles)
In more simplified terms, these are your page titles, and your keyword strings factor into your Title Tags—and these are the keyword strings you'll find via the process outlined above. Your webpages are "named" by giving them a page title, and each webpage can and may have a different title.
So, you should use your most important keyword strings on these page titles. Although there are some varied opinions on the effectiveness of page titles, I've always seen great results when I've changed these up. In some cases, I've been able to drag a website from page 3 or 5 on Google all the way up to page one by simply changing the page titles.
Keywords on Your Website
Whatever keywords you want to rank for, use them in your title tags but also in the verbiage on your website. So, your website copy should contain keywords, too. I like to sprinkle them throughout a website, not reusing the same ones over and over (unless, for some reason, you have limited options) but rather using different keyword strings on different pages.
Blogging to Optimize Your Website
If you're struggling to get some traffic to your website, consider blogging. A blog is a great way to weave in your keyword strings while adding fresh new content to your website. Google loves websites that aren't stagnant, and adding fresh new content via your blog is a solid way to kick your SEO into high gear.
Blogging is often daunting for authors, but let me say this—when it comes to blogging, often less is more. We've tried doing a blog a day (yeah, that's a lot), then we tried several per week and finally landed on one new piece of content a week with one longer blog post a month. So sometimes our posts are 500-700 words, but our longer pieces are just that, longer—so 1200 words or more.
Don't overthink this; just start writing.
Let's look at some examples:
If you write about health and wellness, you might want to tie into what's currently going on—so the flu season and also coronavirus. As we near the summer and all of this fades into the distance, talk about summer health, the importance of sunscreen, and staying hydrated. Nonfiction authors have the keen ability to speak to lots of current news topics, pop culture, or seasonal things—so make the most of it!
If you write fiction, consider expanding on themes from your book. We worked with a mystery author who wrote a series featuring a detective protagonist, and on his blog, this author solved a mini-mystery once a month. This kept his readers engaged in the lead character, too! Or you could write about the process of writing—because lots of your readers may be curious. Or write about the settings in your book, your characters, why you picked a particular storyline, etc.
YouTube
Next to Google, YouTube is the big kahuna when it comes to search. I recommend putting up author videos or book trailers, snippets from author events you've done, and video interviews—really, there is no limit to what you can do with YouTube. Just remember your keywords in the description will be important!
On-Page and Off-Page SEO
There are two types of SEO: on-page and off-page SEO.
On-page SEO is on your website (which we're discussing in this blog post)
Off-page SEO is other sites linking back to your website.
What this means, essentially, is that you gain a great SEO benefit from articles or book reviews you get on blogs or other websites, especially if these sites have great SEO. If you're pitching high-quality blogs and websites, these sites are probably doing great in Google. This is why when an author asks if we can have the blogger link to their book on Amazon instead of their own website, I try to discourage that—because the incoming link to your website has SEO benefits well beyond linking to Amazon. Sure, you might get a sale or two from a link to Amazon, but the conversion on this can be pretty low, depending on what your book topic is. A link to your website allows you to possibly get them to sign up for your newsletter or subscribe to your blog—and in the long run, having a potential reader's contact information is much more beneficial for you.
Having a website that ranks well in Google takes time and strategy—but that investment always pays off. The time you invest in this effort is time well-spent to grow your brand and promote your book!