The role of an author is to communicate stories, ideas, or facts to their readers in an engaging way. But sometimes, authors struggle to communicate their own intentions to those that are helping them publish a book. One area where this is most challenging is in working with a cover designer. Translating your ideas and mental images into a cover that attracts readers is already a challenging enterprise. And if your designer has trouble understanding what your book is like, who your audience is, or what you have in mind, you're not likely to get the results you're looking for—even from a top-notch cover designer.
Book Content
Many authors start out assuming that cover designers will have read their book in full, according to Joanna Penn. It's important to start out with the understanding that this is highly unlikely when working with a busy professional. That means it's up to you communicate the content of your book, in addition to any ideas you might be starting out with.
Some of this can stem from your other marketing efforts. Your back cover blurb should offer readers an idea of the content, tone, and genre of your book. So if you've accomplished this with your blurb, then it's a great way to convey that information to your cover designer as well.
You'll also want to make sure you tell the designer all of the basic, relevant information about your book, like your name as the author (with proper spelling) and your final title and subtitle (since you may have been using a working title through much of the writing process.)
Design Preferences
You also likely have some ideas about how you want your book cover to look, and it's important to get those thoughts across ahead of time to minimize trial and error in the design process. Again, most authors are not visual artists, and it may be challenging to describe exactly what you have in mind. One of the best ways to approach this is to send your designer examples of other book covers that align with your own ideas. Also, if you're not sure what you want yet, looking through book covers is one of the best ways to decide what you want for your own book.
Take a look at other books in your genre, or with similar themes and content. If there are books you know you're competing with, make sure to check out their covers. This provides more than just information, it gives you (and your cover designer) a good idea of what your readers likely expect from your genre. This is important, since it will catch their eye and communicate immediately that your book might be similar to others they enjoy reading. That's also why this is worthwhile even if you have some ideas for your book cover already.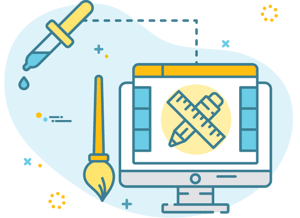 You can also look around any images that strike you as appropriate. For example, if you're writing a novel about ships and sailors, take a look at different images online that depict ships or ocean scenes. Anything that appeals to you can be sent to your designer for inspiration. You can look for logos, art, photos, or any image that may have style elements that you want to incorporate.
And remember, you're not looking for images to copy, you're looking for artistic elements that can be used for inspiration. For example, you won't actually be using the images of ships you find. But if you find an image of a ship that also manages to convey the dark, ominous mood of your maritime mystery novel, there will likely be style choices your designer can emulate in their own design. Other images will give your cover designer an idea of what direction to go.
A good cover will identify a book within a certain genre, but will also offer something unique that stands out and communicates the essence of your book's plot, characters, moods, or themes.
For more information about book cover design, check out The Ultimate Guide to Master Your Book Cover Design.
Working with a Designer
After you've given your designer what they need, they'll offer you a few options. This is where you want to be receptive to their ideas and thoughts, since they have specialized experience and knowledge in cover design. You may have to let go of some of your initial instincts in favor of what works visually and what appeals to audiences.
That being said, there is a right way to give feedback to a designer if you really don't like their ideas. Instead of just saying "no," specify which ideas you like and which you don't. If you like a certain image, but not the title font, make sure to let them know. Within that, try to tell your designer what you like or dislike about cover elements so they know what direction to go in for a second round.
A great cover designer will still need you doing your part—in this case, that means detailed communication and staying open to their expert input.