What is IngramSpark's Book-Building Tool?
For some authors, the hardest part of writing a book might be the twisted plot or character development. For others, it's the outline and organization of chapters. It turns out that designing the book can prove an unexpected challenge for many authors. Several aspects must be considered, both technical elements and artistic features, when designing a book. IngramSpark's FREE Book-Building Tool will guide you through the design process specific to creating an ebook.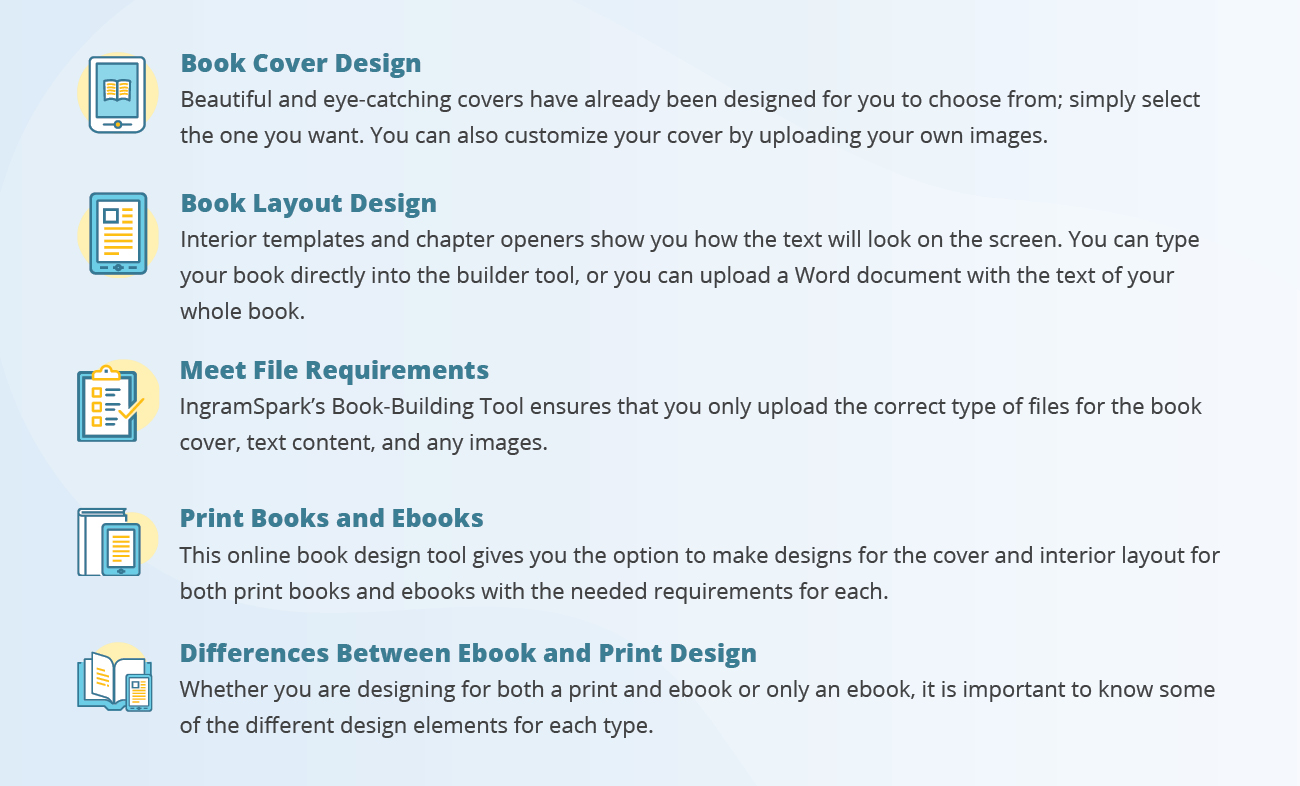 Fonts and spacing will be slightly different from your print version. While in print, the fonts you choose will look the same from book to book, fonts for your ebook will have to change. This is primarily due to the range of devices used to read your ebook. The fonts have to easily change and adapt to display the text in the clearest and neatest form possible for that device. Some e-readers also allow people to change the font of the text to suit their preferences. Think of ebooks as fluid; they change shape depending on the container they are poured into. But it's still the same content, just in a vase or a bowl.
A table of contents is essential for organization, and you will still have one with an ebook but with one major difference, page numbers. With print copies, everything stays exactly the same from page to page. But page 29 of your ebook on a Kindle may not look the same as page 29 on a Nook. Page numbers don't mean a lot on a reflowable text, but they will still be there. The table of contents may also not appear as artistic as the print version. It is a table, after all, so it may appear more grid-like than the more flowing layout you created for your print book.
The cover of your ebook might often appear in black and white. While this doesn't change anything about the layout or fonts of the cover, it is a significant difference to keep in mind when creating your book cover. You will want to make something that is still eye-catching, even in black and white.