IngramSpark first released groundwood paper in 2020 as an alternative to crème and white paper during a time when the latter two were in short supply. It was only available for certain trim sizes in the U.S. Since that time, we've expanded our groundwood paper offering to include most small trim sizes in all our print facilities, including those in the United Kingdom and Australia.
What is groundwood paper? 
Groundwood paper isn't new—it's a very common paper option used in the publishing industry by large and small publishers alike. You see it used with mass-media paperbacks especially. The color is similar to crème, though it's slightly less bright. That isn't a bad thing though, as the reduced brightness can be easier on the eyes when reading large amounts of text.  
Specifications:
Weight: 38lb / 56.2 gsm

Pages Per Inch (PPI): 408
Opacity: 94

Brightness: 70
What are the benefits of groundwood? 
Groundwood paper has several qualities that make it an attractive option for a new book. It's thicker and lighter than crème paper, adding bulk to smaller books without extra weight. If you have a shorter book, choosing groundwood paper can help the book look more substantial, but not weigh as much as if it had a higher page count. Additionally, because groundwood paper is thicker, that means that fewer pages are needed to create a substantial spine that can support spine text. 
Adding bulk without additional weight adds an additional benefit: lighter books mean less weight per carton, which will save you on shipping costs. It may be a small amount per order, but over time, those cents can add up to substantial savings.
In addition, groundwood paper also has a higher opacity than crème or white paper. That higher opacity lets less light through, creating a less transparent paper. This means that text doesn't bleed through as much as it might through white or crème paper.  
How does groundwood paper compare to white paper?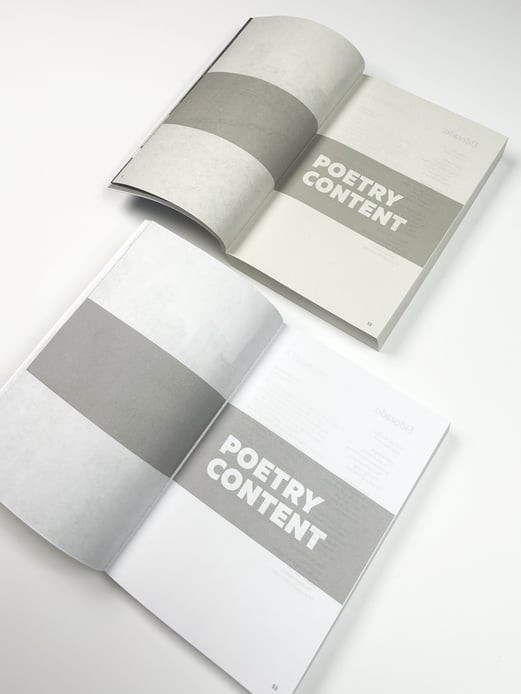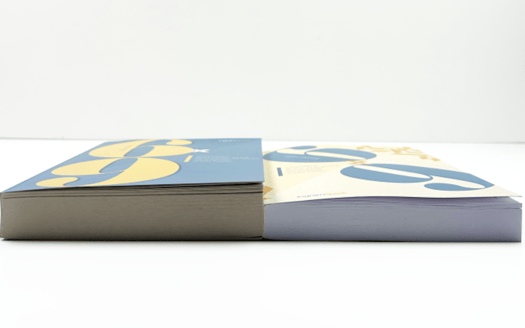 *Books in image above are both 400 pages, with groundwood paper on the left, white paper on the right
Groundwood paper book specs: 0.99in / 25.25mm thick; 1.07lb / 483.07gm

White paper book specs: 0.82in / 20.53mm thick; 1.18lb / 534.32gm
What book types are best for groundwood?
Keep in mind, groundwood paper can be used for paperbacks and hardcovers, so you aren't limited to softcovers if you want to select this paper. However, color printing is not an option for this paper selection, so you can only use it for black-and-white printing.
Groundwood paper isn't the best choice for every book, but here are five book types that groundwood is perfect for:
Seasonal fiction (think beach reads or holiday romance)

Children's chapter books

Self-help (especially those shorter ones)

Devotionals

Any quick-read fiction or nonfiction



Whichever paper option you choose, we hope you'll fully explore your options and make the choice that's right for your book.