We're excited to unveil the new home dashboard and title setup process in your IngramSpark account!
Check out these exciting updates to your IngramSpark account!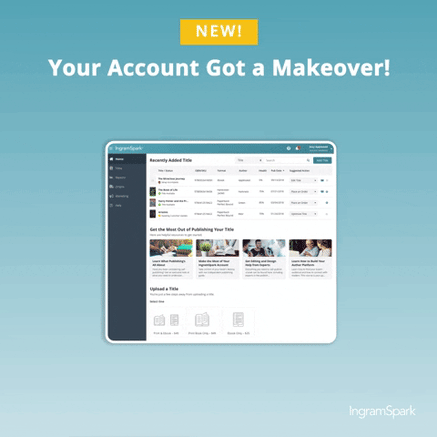 FREE ISBNs
That's right—IngramSpark now offers FREE ISBNs for publishers. Here at IngramSpark, we don't want to do anything to stand in your way of publishing a book. By offering free ISBNs, we want every writer with a story to be able to share theirs with the world. Find out more about the ISBNs (why you need an ISBN, how many you need, the difference between purchasing an ISBN and using a free one, etc.) in our blog post, ISBNs: International Standard Book Number Facts for Self-Publishers.
FREE Book Design Tool
IngramSpark's new online book design tool allows you to create cover and interior files directly within your IngramSpark account. The design tool is available for both print books and ebooks, and once you're done designing, you can export files that are sure to meet IngramSpark's file specifications.
Did we mention it's free for all IngramSpark authors and publishers?
We're still making updates, but we're excited to share what we have so far, so try out the tool and let us know what you think!
New, User-Friendly Dashboard
With your new account dashboard, you'll receive easy access to existing titles and clear actions to get incomplete titles ready to order.
Guided Title Setup Process
Get popular trim size suggestions based on your genre/BISAC codes, real-time visibility to the print cost of your book as you toggle between different print choices, and automatic currency conversion on new titles to help you sell your books worldwide.
Automatic Currency Conversion
If you could set pricing for markets outside of your home country and achieve more book sales, why wouldn't you? With automatic currency conversion, IngramSpark helps you provide global pricing for your book—that means availability to more potential readers, which could ultimately result in more book sales.
Print-Only Option for Books
Not interested in distributing your book? We now offer a "Print-Only" option at the beginning of the title setup process. Let's say you simply want to create a book as a gift (Mother's Day is right around the corner!), and don't wish to make your book available for sale. Now, you can select this option and skip past the metadata questions that are required for publishers enabling their books for distribution. And you can always enable it for sale later!
Option to Offer Previews on Amazon
With many bookstores temporarily closed and many readers resorting to online shopping, online discoverability is more important than ever. Good metadata offers you the best discoverability possible on all online retail sites, but you also now have the option to offer a preview of your book on Amazon through your IngramSpark account!
We're thrilled to share these updates and many more still to come!
What are you waiting for? Sign in to your IngramSpark account and check out these new features today!