Readers use social media to review, recommend, and talk about books. Beyond user posts and comments, prominent bloggers use social media to post and promote their reviews and recommendations, making it a rich source of discovery for your potential readers. Simply put, social media is a goldmine for authors.
Take IngramSpark's FREE Social Media Marketing for Self-Publishers Online Course
While you might be overwhelmed by all the various social media platforms, register for all of them and then experiment to figure out which channels you like best. Here's an overview of the most important social media for authors.
Branding First
Before you start you'll need to create an author bio, photo, and a header image for each site. The easiest way to create the different sized headers necessary is to use Canva. It's a free service that provides templates for each of the social media and e-mail headers you need. (Even before this, however, you may want to create a brand identity that defines colors, fonts, and graphic elements that you use throughout your site.)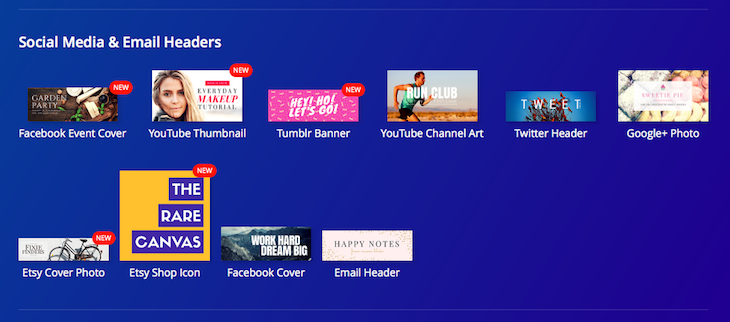 Facebook for Authors
With more than 1 billion daily users, Facebook offers the potential to reach a readership. Here are a few tips to help you get the best results from your Facebook presence.
Create both a personal page and an author page. Facebook sorts pages into different categories: personal pages, business pages, virtual events, etc. You cannot create a business (author) page without first signing up for a personal Facebook page.
Provide updates on your writing. Let your readers know what you're publishing and where. Along with your books, offer updates on guest blogs, articles, stories, and any other recently or soon-to-be published work. You might even publish excerpts of your writing, or experiment with new writing published just to your fans, using Facebook Notes.
Offer freebies. Along with updates on your writing, Facebook for authors can be a wonderful resource for promoting contests, sales, and offering freebies to hook new readers.
Link Facebook to your website. Place a Facebook "like" widget or button on your author website for readers to "like" your Facebook page and see posts in their newsfeeds.
Consider "Promote this Post" and other Facebook ads. Facebook ads are a very inexpensive way to achieve visibility to a large, targeted audience. I've been experimenting lately and have found them to be an effective use of my time and money.
Twitter for Authors
Twitter is the cocktail party of social media, a place you can quickly get to know readers and influencers, and to offer and receive up-to-the-minute news and information. Tweets are limited to 140 characters, so this is not the place for authors to share in-depth content (but you can link to it). There are a number of ways to get creative with Twitter that capitalize on its easy interface and news-sharing features. Share links to new articles or related content. Tweet a few sentences from an upcoming book as a teaser. Make sure to participate in the community though, and remember the social media rule of thirds: 1/3 of your tweets should be about you, 1/3 curated content, and 1/3 about others.
Because many journalists and professionals use Twitter, it provides authors the opportunity to stand out as a notable person in the field. Getting retweeted by a person with thousands of followers can boost your profile immediately. Stay active on Twitter, post the same tweet at different times of the day (using HootSuite or TweetDeck to automate them) and participate in as many relevant conversations as possible.
Other Social Media Platforms for Authors
Facebook and Twitter are the two most important social media sites for authors, but consider these other platforms as well. I think you should choose at least one visual platform, such as Pinterest or Instagram. Your choice will depend on whether you use your computer for sharing images (Pinterest) or your mobile device (Instagram).
Google+. G+ is a great platform for sharing long posts. Offer a teaser of a new blog post or other content and link it to your book sales page.
Pinterest. Pinterest lets users create a virtual bulletin board by "pinning" images from pages onto a virtual bulletin board. Include an image on every page of your website so that readers have something to pin.
Tumblr. Tumblr is a hosted visual blog interface. If you write books that include several images, Tumblr can be an effective way to promote your work.
Instagram. Instagram is a mobile photo app that lets users share and comment on photos. Use Instagram to give your true fans a little peek into your life and your writing process.
LinkedIn. Use LinkedIn like a virtual resume to connect with other professionals in the industry you write about, other writers, and publishers. Because LinkedIn is a professional social site, your profile must be polished and well-written. LinkedIn also includes interest groups where you can post information about your upcoming events and publications in discussion forums. You'll find influencers on LinkedIn – people whose words reach hundreds and perhaps thousands of others.
YouTube. Video is an increasingly important marketing tool for all industries. Consider creating short, entertaining YouTube videos about your books, your writing process, or other topics that may be interesting to your readers.
Have fun! Once you find your tribe on these sites, you'll open up a world of new friends, new ideas, and new readers. Get started as soon as possible, and reap the many benefits of being social.