Are you thinking about publishing a cookbook? In the digital age, the opportunities to market a cookbook can seem endless. In this article, I'll share nine steps to help you build a following, three keys to planning a successful book launch, and eight different ideas to add to your marketing plan.
9 Steps to Build a Following and Promote Your Cookbook
1. Create an audience of cookbook buyers
2. Be as authentic as possible
3. Engage with your followers
4. Post regularly
5. Get creative with food styling
6. Let people in on the journey
7. Document your process
8. Collaborate with local artisan food brands
9. Connect with local or regional kitchen stores
1. Create an audience of cookbook buyers
Start your social media activity early on (at least 6 months before you launch) with the intention of creating a community on Instagram who will eventually turn into book buyers. You don't need to start an account just for your cookbook—focus on developing your unique brand as a chef. Then, when the time is right, promoting your book will come naturally.
2. Be as authentic as possible
People love seeing you be yourself. Find your voice and don't be afraid to be who you are—if you're trying too hard to be someone you're not, your followers will notice.
3. Engage with your followers
Respond whenever someone comments or ask questions. Run polls on your stories and try to like your fans photos! This will go a long way.
4. Post regularly
A few times a week is fine for posts, but keep your stories going daily. Post food photos/videos, recipes, nutrition tips, and you cooking or doing foodie things.
5. Get creative with food styling
If you're not used to plating food professionally or taking food photos, start with a nice wood block cutting board, a few simple elegant plates, and one set of beautiful utensils. Start using edible flowers, herbs, and pretty towels in your pics. If you need inspiration, follow accounts with pretty food pics or invest in a course on food photography—there are many online courses available!
6. Let people in on the journey
Make them feel like they're a part of your process so they're invested early and start to anxiously await your cookbook launch.
7. Document your process
Post stories of all your photoshoots, as well as visits to farms or farmer's markets picking up veggies for your dishes. Your audience loves seeing you in action!
8. Collaborate with local artisan food brands
Feature their unique products in your book—they will repost what you share, creating awareness.
9. Connect with local or regional kitchen stores
Reach out to specialty kitchen supply stores to donate/loan serving ware to use in photoshoots, give them shoutouts on your stories or in the resource section of the book. They will promote your book when the time comes.
3 Keys to a Successful Book Launch
Celebrate your cookbook with a book launch party!
Hosting a launch party is a way to celebrate your achievement, share your story in person, let people sample food from your book, and give people a chance to get to know you! Do not underestimate the momentum this can create for book sales.
1. Hire a photographer / videographer
Investing in a photographer and/or videographer for your book launch is highly recommended. This not only gives you content for future posts on social media, but gives a sense of professionalism to your brand/cookbook.
2. Host the launch in a unique location
Your cookbook by nature opens up possibilities for events beyond just bookstores. Think about hosting your launch party (and other book signing events) in restaurants, cafes, farms, or other interesting settings that have a built in audience who appreciates food.
3. Serve the most delicious dishes from your cookbook
My famous "Cashew Queso" dip blows people away every time they try it! They immediately want the recipe, then purchase the book, often just because they can't wait to recreate the dip back home.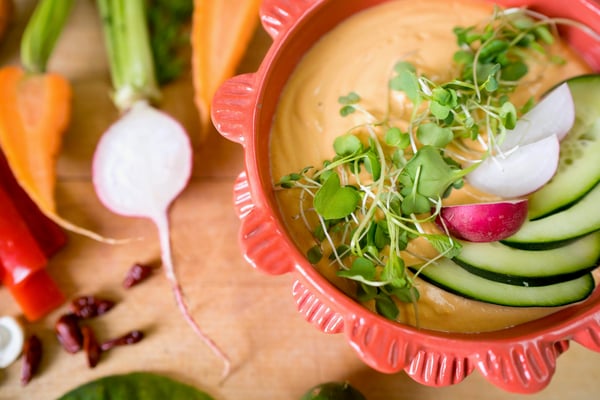 Successful Cookbook Marketing Strategies
1. Reach out to influencers
2. Reach out to local magazines in the foodie or wellness world
3. Create a hashtag for your book
4. Promote Instagram and Facebook ads
5. Guest post on other's blogs
6. Create swag
7. Run giveaways
8. Plan events
1. Reach out to influencers
Celebrity chefs, wellness gurus, foodies, food bloggers, herbalists, or anyone whose followers would be interested in what makes your cookbook unique—send them your book, in hopes they will share on Instagram or provide you with an editorial review. For example, if your cookbook features wild foods from Hawaii, reach out to a foodie influencer in Hawaii who would be happy to give you a shout out.
2. Reach out to local magazines in the food & wellness world
Let them know you've recently released a cookbook, and you'd love a feature article. Craft your pitch and do your research to find out which magazines would be interested in your book.
3. Create a hashtag for your book
Encourage readers to share their creations and use your hashtag. Over time, this hashtag becomes a landing page for people to see everything that's relevant to your cookbook.
4. Promote Instagram and Facebook ads
Let's face it—Facebook is not showing our posts to all our followers, so we're forced to invest some money into advertising. Fortunately, these advertising tools are the same tools that big companies utilize, and it doesn't have to cost a lot.
Become familiar with using Facebook ads—it can be complicated, but worth it, and a great way to market your book to people who would have never found you.
It is also worth just running a few short ads to see what people respond well to. A photo of you holding your cookbook or an engaging video that shows the inside and sample recipes usually is more click-worthy than just a shot of the cover.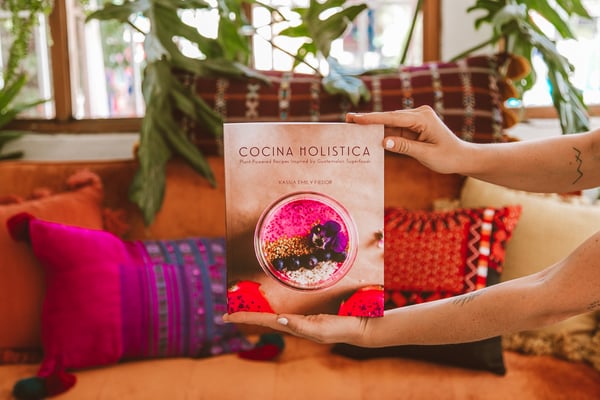 5. Guest post on other's blogs
Some influencers, teachers, or public figures will not outright review your book, but will allow a guest post on their blog. This is an indirect way to promote your book and get traffic to your site.
6. Create swag
Make a cool tagline, use a photo from your book, or create a "movement" that stems from your cookbook, and create promotional swag like t-shirts or canvas bags.
For example, my cookbook features superfoods from Guatemala—I commissioned an artist to draw a map of Guatemala, including the regional foods.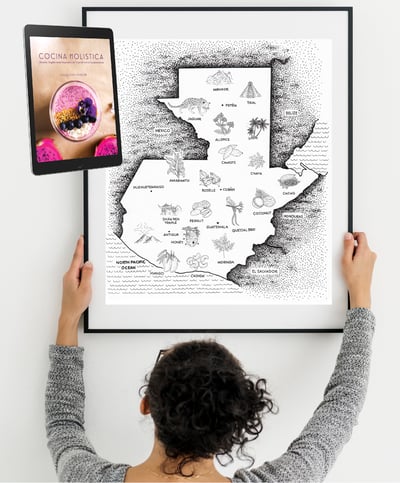 I noticed my followers from Guatemala loved the map, so I sold the high-res image to people to print out and frame.
7. Run Giveaways
This is a really great way to create some exposure for your brand! Reach out to those food brands, kitchen stores, or farms you've already formed relationships with, and see if they're interested in doing a giveaway—you giveaway a book, they giveaway an item from their brand. Reach out to any brand who aligns with your cookbook (ex. if a lot of your recipes use organic amaranth flour, reach out to an amaranth brand on Instagram to see if they'd be interested in collaborating). Nine times out of ten, brands will send you product to try along with a giveaway item to send with your cookbook to the winner.
8. Plan events
Find local health and wellness or foodie events where you can demo a recipe and/or sell your book. This is a great way to build a local community of fans who can advocate for your book on their own personal social media accounts, and help you gain exposure to more of your target audience.
Business Opportunities Expand for Cookbook Authors
When I released my cookbook, I began to see people respond differently. It gave my brand immediate credibility. As a Holistic Nutritionist and Private Chef, I had previously experienced success in my career for many years, but this was primarily via word-of-mouth promotion by my clients.
Now that I have a cookbook, I see that it helps me stand out among the other nutritionists in my field. People warm to my brand quickly when they come across my Instagram account, and reach out to me for really interesting opportunities! I am getting business opportunities, as well as requests for speaking engagements or to be involved in events or retreats, many of which allow me the chance to promote and sell my cookbook.
An example of this is a recent wellness experience in Georgia—I was contacted by the organizers to provide food at the event. One thing led to another, and my cookbook was included in the VIP goodie bags gifted to the incredible speakers: Elizabeth Gilbert, Joe Dispenza, and Gabby Bernstein to name a few.
In many ways, my cookbook has opened so many exciting doors for me that I never thought possible in my wildest dreams!