Historically, you've been able to update pricing, returns, and discount information within your IngramSpark account and those changes have been made effective on a monthly basis. As of March 26, 2019, these price changes are now effective weekly. Learn more about how to update pricing in IngramSpark—and a few things to think about before you do.
You've been asking for it, and we made it happen. Now that list price, wholesale discount, and returns options are scheduled weekly, you no longer have to wait to make these changes only once a month. So what's the big deal about being able to update your pricing, returns option, or discount more quickly? Let's dive in.
Here's Why You Would Update Pricing, Discount, or Returns in Your IngramSpark Account
There are a few good reasons to update pricing within your account.
Did you recently book an author event at a local bookstore? That's great! But what if the bookseller goes to order your book through Ingram and sees that it has a nonreturnable status? Most bookstores won't purchase a book unless it's returnable, because they don't want to risk a new book not selling. This would be a good reason to change your book's status to returnable (now wouldn't you rather that change be finalized within a week rather than having to wait a whole month?).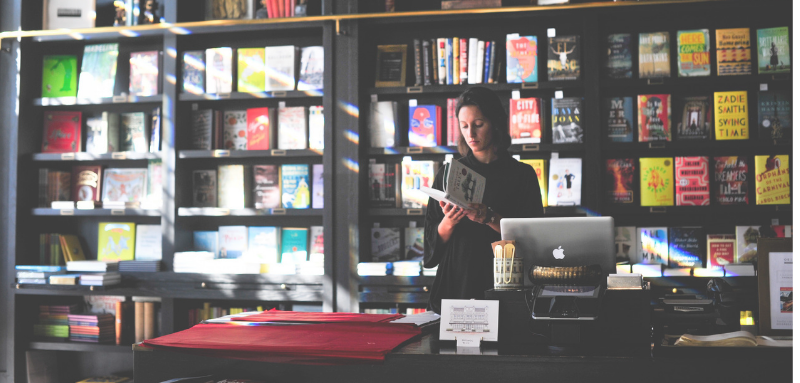 Similarly, if a bookstore goes to purchase your book but you're offering a short discount, they're not likely to purchase your book. Most booksellers purchase books with a standard trade discount, and we advise our authors and publishers to offer a 55% wholesale discount. Consider why you should discount your book and how this will impact your book sales to make the most informed decision for your business.
Now, let's discuss what you need to think about before you update your account information.
Consider This Before You Update Your Pricing in IngramSpark
"Just because you can do it easily doesn't mean you should play around with your pricing too much." — Robin Cutler
More and more bookstores like Barnes & Noble are requiring a price-specific barcode on the back cover of the book. If you use a price-specific barcode on your book, what does it mean when you change your prices? It means that you need to do three additional things:
Revise your cover files with a new price-specific barcode.

Submit your revisions to IngramSpark.

Go through the process of getting your files approved again.
While your price change might take place weekly, the process of updating your book cover might not be as swift.
"What exactly is a price-specific barcode, and how can I get one?" — You, maybe
We're glad you asked!
In a barcode, you'll typically see a 13-digit ISBN first. If you're a U.S. based publisher, this number usually starts "978", followed by another ten numbers. At the end of your 13-digit ISBN is a five digit code. A non price-specific barcode will read "90000", which lets the retailer's computer know that they need to look up the price; it's not embedded in the barcode. A price-specific barcode will begin with the numeral five, indicating the country it came from, and the price of the book. If the price is $16.95, a price-specific barcode will read "51695".
In IngramSpark, you're able to use the cover template generator to create a price-specific barcode. When it asks "Price in Bar Code?" under Optional Information, select "Yes." If you choose to self-publish with Amazon, note that they do not allow for price-specific barcodes at this time.
Listen to the Season 3 Finale of IngramSpark's Self-Publishing Podcast, "The Reality of Selling to Bookstores and Libraries with Amy Collins"
Consider This Before You Update Your Returns Status in IngramSpark
As we mentioned, most booksellers will not purchase a book unless it's returnable. It's good to understand what happens when you change your returns status, and when those changes go into effect for booksellers.
Let's continue off of our example above of an in-store event at a bookstore. If a bookstore will not carry your book without a returnable status, you may decide to change your returns status from "No" to either of the "Yes" options (deliver, for U.S. and Canada, or destroy) to encourage them to carry your book. Now, all booksellers are able to return titles immediately from the date notice is provided to them. Make sure you're aware that if you've previously sold books to a bookstore with a nonreturnable status, those booksellers may now return books from the effective date of the change, regardless of when the books were originally purchased.
On the other hand, let's say after the event that you'd like to change it back to "No." If you change your book's return status from either of the "Yes" options to "No", we'll provide notice of the change to all distribution partners, but booksellers will continue to have the right to return books for a period of 180 days from the date we provide notice to them.
How Do I Update Price, Discount, and Returns in My IngramSpark Account?
You can submit updates to a book's list price, discount, and/or returns option through your account no later than 11:59 PM US Central Time every Thursday, to have it applied in the IngramSpark system every Friday at 12:01 AM US Central Time. The updates are then sent out to all retailers in Ingram's global distribution network. Note: how quickly this information is updated on a retailer's website is up to them.
To help with converting this cut off time to your local time zone you can find a time zone conversion tool here. Due to Daylight Savings time changes happening at different times throughout the world, please always check the time for Nashville, TN to ensure you don't miss the cut-off time of 11:59 PM US Central Time each Thursday!
We're consistently striving to make the self-publishing process easier for our IngramSpark self-publishers, but we acknowledge that there are quite a few nuances you need to be aware of before you make changes to your account! We hope that this information will give you the tools you need to make the most informed decision for your business and propel you forward on your self-publishing journey.