Many of us authors get tired of hearing the word "platform." Working to build an audience can feel like climbing an impossibly high mountain, where the peak looks farther and farther away as you go. The good news is that the potential audience for your book might be bigger than you realize.
We all have family, friends, and acquaintances—some dating back many years. Have you ever considered that the people you know could be helping you promote and sell your book?
Here are some examples:
Every one of us has a tribe. Yours consists of the people in your life who can help impact the success of your book and your author business as a whole. This group includes peers, business associates, fellow authors, friends, family, and acquaintances.
The point here is that you know a lot more people than you realize, and those contacts can help with all kinds of book promotion opportunities.
Ways to ask your tribe for support:
Introduce you to industry influencers
Share your book in their newsletter/blog/magazine
Send a copy of your book to someone famous
Promote on social media
Connect you with sponsors
Connect you with speaking opportunities
Connect you with retailers and other sales outlets
Introduce you to nonprofit contacts
Write a review for your book on Amazon
Publish a book review on their blog or newsletter
Buy copies of your book, especially in bulk quantities
Host a contest to give away copies of your book
Refer you to people who can buy your books in bulk
Connect you with media interviews
Here's what your tribe of influence looks like: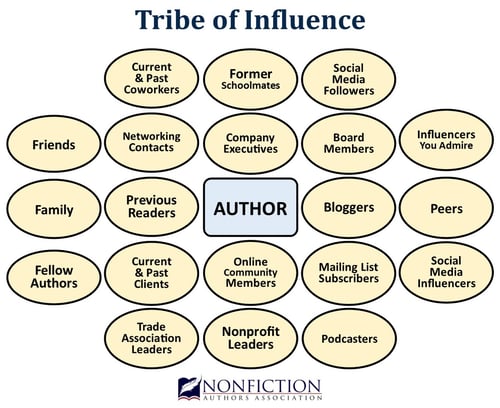 (You can download a printable copy of the Tribe of Influence chart here.)
Homework: Identify Your Tribe of Influence
Sit down at your computer and dedicate some thoughtful time to looking through your contacts lists, social media networks, photos with memories, and even old emails. You might be surprised by who you've forgotten about and how they can support you.
I recommend building a spreadsheet that includes the following columns:
Contact Name
Email Address
Phone Number (if you'll use it)
Your Request (what you plan to ask)
Ideally you should build your lists before your book comes out, but no matter where you are in the process, just start now. It's never too late to connect with your own tribe of influence and create new book marketing opportunities!