It isn't as hard as it sounds. You don't need to compose a query letter, secure a literary agent, or cut through miles of a traditional publisher's red tape before the book is released to the world. You can create an ebook from the comfort of your office—or couch—with the right tools, information, and help from the experts. Here's are some ebook formatting tips:
The EPUB Ebook Format
EPUB is a standard ebook format that everybody uses. There are two kinds of EPUB. Standard, reflowable EPUB and fixed-layout EPUB.
Standard, Reflowable EPUB
If your book is a novel or other text-heavy book, you'll format your ebook as a standard, reflowable EPUB. These ebooks are completely fluid and flow into the various devices and apps your customers use to read it. If you include images, you'll need to optimize them and place them inline as the text cannot flow around images.
Your readers can customize the text, making it as large or small as they like. They can also set the font they like, and even the color and background. This makes it unnecessary to choose a font or include headers and footers like page numbers. So don't embed fancy fonts for your ebook—use a standard font like Georgia or Times New Roman for your body text, and a sans serif font like Arial or Helvetica for your headings.
Fixed-Layout EPUB
If you're creating a complex book like a children's book, cookbook, or textbook, you're better off delivering it in a fixed-layout format, so that every element of your book will stay in place exactly how you designed it. Fixed-layout EPUB books are formatted like print books, with text that stays in place next to images and pages that don't break. Every element of your book will stay in place exactly how you designed it. Your bullet points, photos, text boxes, image placement, and other fine-tuned details won't budge. Enhancements like zooming and interactivity can also be programmed in to a fixed-layout EPUB. This kind of ebook is best read on the larger tablet devices like an iPad.
Fixed-layout EPUB books can't be sold in the Amazon store because fixed-layout Kindle books have a different aspect ratio. So you'll need to choose one or the other, or design separate ebooks for each platform. You can see why creating a fixed-layout ebook is complicated and is best left to a professional book designer!
Ebook Creation Tools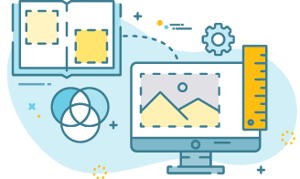 You can create your own standard, reflowable ebook easily with a few different programs. Make sure to keep your images small so your ebook stays under 10MB in size. Otherwise, you'll pay download fees if readers purchase your book from Amazon.
IngramSpark EPUB Conversion is a great way to convert your existing print book into EPUB format. IngramSpark will convert your print files into Standard or Fixed Layout EPUBs for just $0.60 per page. Your print book has to already be in IngramSpark's system to take advantage of this offer, but if it is, the conversion service guarantees e-reader compatibility, optimization for a consistent reading experience across e-readers, quick download speeds, and availability to major online retailers worldwide.

PressBooks

is an online publishing system that produces beautifully-designed EPUB formats for ebooks and PDFs for print. It's built on WordPress, so if you're

blogging

on WordPress, you already know how to use it. I like the Pressbooks blog-to-book import feature, which is awesome for creating the first draft of a book from a series of blog posts (see my blog-to-book

Motorcycling Northern California Wine Country

as an example.) Play for free and pay $19.99 for EBOOK Pro or $99 for PDF+EBOOK Pro to remove the watermarks.

Book Design Templates can be your best friend for ebook and print book formatting in Word, Pages, and OpenOffice. Choose a design you like, paste your Word document into it, and apply the appropriate styles that are predesigned for each element of your books, such as your chapter headings and body text. I like Joel Friedlander's interior book design templates and have used them when helping clients with books in Word. You can get them at a 30% discount with a coupon code from IngramSpark. Choose one of the 2WAY templates if you want to export to both ebook and print formats.

Scrivener is a great writing tool for iOS and Windows that you can use to export (compile) your book to EPUB format automatically. Scrivener costs around $49. If you use Scrivener for Mac, but you want to get a little fancier with your ebook, you can import it to Vellum.

Vellum is a favorite formatting tool with authors who use the Mac because it's so easy to use and creates beautiful print PDFs and ebooks. In ebooks, you can even incorporate classic touches like custom drop caps and ornamental flourishes. A live preview instantly shows how your book will look and refreshes when you make changes. Download Vellum for ebooks for $199.99 and Vellum Press for print and digital for $249.99.
Use these templates and tools to format your book by applying styles to your paragraphs and headings to create a beautiful ebook format ready to deliver to online retailers.
Validating Your File
Before you upload your book for distribution run it through a free EPUB Validator. Most simple books won't have issues passing, but if you have problems and can't figure them out, search online for someone who will "fix ebook validation errors." It's usually pretty cheap and quick.

How to Find and Work with a Professional
Working with the right book design professional can take the pressure off you and make your ebook shine. Professionals are conversant in the latest versions of design programs like Adobe InDesign, and they can code your book so that its ebook formatting smoothly translates onto multiple devices.
You can reliably find book formatting professionals using online marketplaces like Reedsy and PubLaunch. You can also find a qualified freelancer on Fiverr or by submitting a brief with a service like UpWork. Be sure to get a detailed cost estimate in advance. Ask for samples of previous work or look at their star ratings and reviews. If they're the right fit, don't micromanage. Use their expertise to your advantage and let the ideas flow.