For many years, the discussion around ebooks has been tied to print: which is better, more efficient, more reliable—as if the two options were pit head-to-head on a vs. match. But let's be realistic, both formats are on the same team. Skewed rhetoric has made it seem as if the two compete with each other when in reality, both could be working in tandem to bring your book more exposure. When it comes down to it, authors want their books to be seen by as many potential customers as possible. Offering a print AND ebook version of your books is one way to do that and with IngramSpark's newest updates to ebook distribution, your ebook format is even more visible than ever.
Considering Publishing an Ebook?
Authors shouldn't ask themselves if they should publish an ebook along with their print book. Instead, they should ask themselves, "how can I include ebooks as a potential strategy to sell my book?"
Publishing in only one format puts restrictions on your book's reach and overall sales potential. It would be difficult to gauge the true demand of your title without using every format available to you when selling. A book that ends up performing poorly in print could find a budding audience with those who solely purchase ebooks.
Ebook Demand
There's an entire world of readers who have embraced e-readers much like laptops, tablets, and smartphones (loving just about anything with a screen). E-readers are portable, convenient, and in some instances, can even fit in your pocket. To ensure you're not alienating yourself from this audience, it's important that you place your book in as many formats as possible and make it available in as many places as possible so as to be where your readers are discovering their next great e-read. This is something to especially take note of if your title is directed toward children or young adults. Other genres that have found success in the digital space include science fiction, paranormal fiction, and romance.
Even older generations are becoming digitally savvy readers due to the convenience of storing several titles on one device. Not many people want to carry a suitcase full of books when leaving for a business trip or vacation. With ebooks, readers can bring dozens of their favorite titles with them wherever they go—something that's had an impact on how people consume literature.
Publishing in only print is like restricitng your song to the radio. Though it's a popular medium, you're missing out on all of the exposure that Spotify, iTunes, and Soundcloud could bring you.
IngramSpark Ebook Distribution Channels and Models
Nowadays, global distribution is more than just sending your book to physical stores on a map—it also means sharing it across the virtual globe. So how are we introducing the books of IngramSpark authors to this virtual world and all it has to offer?
First, we provide numerous online retail channels for readers to discover your ebooks. Once your ebook file has been formatted and uploaded to your IngramSpark account, you automatically have access to our online partners—including Amazon, RedShelf, Apple, and so many more. With as many options as are included in our breadth of ebook distribution, your book's chances of being noticed increase substantially—more than if you offer it to just one publishing platform or retailer exclusively.
We offer a variety of ebook sales channels, including retail, library, and institutional. Each category has several ebook sales models within it:
Retail Ebook Models
One Book, One Sale: An End User purchases a perpetual license to the Digital Title in an a-la-carte purchase environment.
Unlimited Subscription: End Users pay a flat, monthly price to a subscription service for access to a Digital Title until the subscription ends. A sale occurs each time an End User consumes the set threshold of a Digital Title (no more than 20% of the Digital Title).
Shared Pool: End Users pay a flat, monthly price to access a subscription service which contributes to a shared revenue pool.
Library Ebook Models
Single User*: One End User is allowed access to the Digital Title at any one time.
Three User*: Three End Users are allowed access to the Digital Title at any one time.
Pay-per-use**: An unlimited number of End Users may access the Digital Title at any given time. Profits are shared equally between the Reseller and the Publisher.
Institutional Sales Models
Short-Term Loan**: End Users are granted access to the Digital Title for a 24-hour period. An unlimited number of End Users may access a Digital Title at any one time. A sale is triggered each time an End User is granted access to a Digital Title.
Three User*
Non-linear Lending**: Libraries purchase a license that allows 325 "uses" of a Digital Title every 12 months. A "use" occurs when a user reads, copies, or prints a certain number of pages (or a certain percentage of) the Digital Title. Access to the Digital Title is removed after the 325th use and is not reinstated until the following year, unless an additional license is purchased.
*This business model allows a library or academic institution to purchase a perpetual license to the Digital Title.
**This business model allows a library or academic institution to purchase a limited license to the Digital Title.
Library Pricing for Ebooks Available from IngramSpark
With the addition of library ebook models, you'll now see library pricing available in your IngramSpark account when setting up a new ebook or updating pricing on existing ebooks. Adding pricing to the available library pricing fields makes it possible for your ebooks to be distributed to IngramSpark's library partners, like OverDrive, and to participate in the library ebook models outlined above. Because of the lending models associated with library ebook distribution, library pricing for ebooks is typically 2.5 times the corresponding ebook retail price. So if you're selling your ebook for $9.99 to ebook retailers, you'd be fine to enter $19.99 as your library pricing to help maximize your profits when selling your work to libraries.
Add library pricing to your existing ebooks today!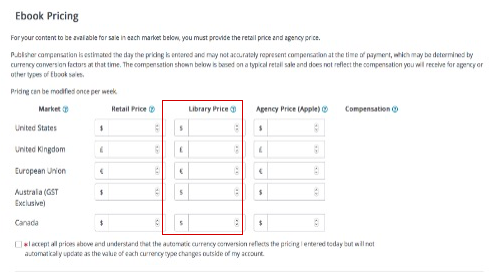 Converting a Print Book to Ebook
IngramSpark offers a convenient ebook conversion service for print titles already in your IngramSpark account. To convert your existing print book to an ebook, it costs just $0.60 a page. When you use IngramSpark's EPUB conversion service:
We format your ebook for you

Your ebook has guaranteed e-reader compatibility with all ebook channels
Many of our publishers have already taken advantage of the opportunity to convert their print titles, giving them access to all of the ebook distribution channels mentioned above.
With your print and EPUB books working in unison, your book's window of opportunity to reach readers worldwide opens even further than either format on its own. And publishing your books with IngramSpark increases your distribution for any format even more.